Tips for maintaining a helicopter fleet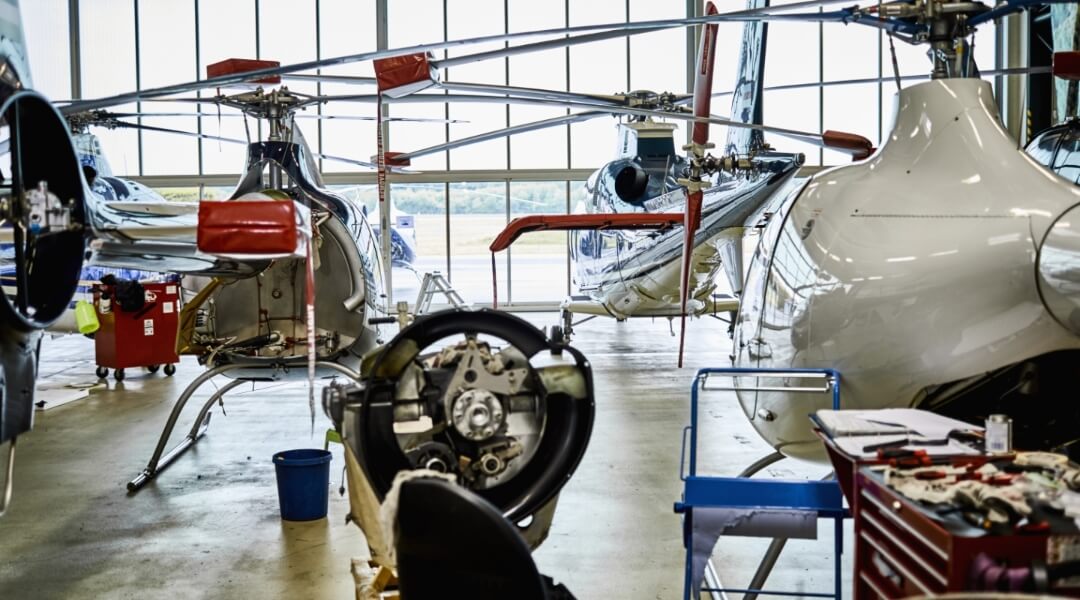 Safety is a top priority for any helicopter owner or operator, as maneuvering and flying such expensive, powerful machines requires a keen attention to detail to ensure proper performance.
Regular maintenance is a key part of that. Frequently inspecting and cleaning your helicopter helps make sure it performs as it should and can also help uncover any issues that may negatively impact flight safety. It's always better to identify any such issues on the ground than in the air – where it may be too late.
And the more aircraft you have in your fleet, the more challenging keeping up with regularly scheduled maintenance can be. For hospitals, police departments, and tourism companies, this is a common obstacle faced on an ongoing basis through the life of a helicopter.
Here are some tips to effectively maintain and clean your helicopter fleet for optimal flight performance and safety.
Review your owner's manual
First things first. Before you start to speculate on what steps need to be taken to properly maintain your helicopter, you should consult your owner's manual, which will include specifications, parameters, and proven methods for cleaning and maintaining your aircraft. The manufacturer, together with the FAA, will determine how often and how in-depth your helicopter should be inspected by a qualified specialist.
Establish a maintenance schedule
The notes in the manual about how often your helicopter should be inspected can help develop a regular maintenance schedule to prolong the life of your aircraft and its components.
By and large, the right maintenance schedule for you will also depend on how often you fly. A helicopter that flies daily will need more frequent and intensive maintenance than an aircraft that only takes to the skies once a month or so. For this reason, operations like air medical service and law enforcement should schedule regular maintenance rather than waiting to do so on a strictly "as needed" basis.
For those flying every day, for instance, you may want to wipe down interior windows and the nose, rotor head, large streaks, and areas behind the exhaust stacks after every flight. On a longer-term, more infrequent basis, however, you may want to plan on applying a full exterior paint sealant every six months to protect the airframe's paint from saltwater and corrosion.
Generally speaking, inspection intervals can commonly be planned on a daily basis and after every 25, 50, 100, 150, and 600 flight hours. But regardless of timing, what's most important is that you set a clear and well-informed schedule for regular maintenance and that you stick to it.
Some basic maintenance checks and tasks include:
Gearbox inspection
Battery check
Oil sample check
Service and lubrication of aircraft subsystems
And more
Rely on trusted experts
Helicopters, like any aircraft, are highly intricate and technical machines, which can make executing thorough and reliable inspections on a regular basis an uphill battle. If you're ever unsure of the condition of a part or the accuracy of an inspection, never be afraid to follow up with a trusted resource for a second look or additional information.
Anytime service or repairs need to be performed, you should ensure it is handled by an OEM-authorized and trained technician with the necessary experience and knowledge of your helicopter. It is also a good idea to have a skilled person other than the specialist who completed any repairs inspect the safety and security of the work after the fact.
Achieve safe ground-handling capability with Chopper Spotter
As critical as regular and thorough inspection is, so is the ability to transport the helicopter on the ground during service. For many, maneuvering in and out of hangars for maintenance is a frustrating, clunky task, due to bulky and cumbersome tugs and dollies.
Chopper Spotter manufactures industry-best ground-handling equipment for helicopters weighing up to almost 12,000 pounds. With three distinct models of helicopter tugs to meet your needs, Chopper Spotter is known for precise maneuverability, easy-to-use wireless control, a small footprint, and stability to provide safety for operator and aircraft.
Since 1989, we have provided this world-leading ground-handling capability from our facility right here in the U.S. For anyone with a helicopter, from hospitals and police departments to military organizations and private operations, we deliver full and total on-the-ground control so you can move and position your aircraft exactly as you need to. Request a quote today to start experiencing the ease and maneuverability of the industry's best ground-handling equipment.