5 Perfect Gifts for the Helicopter Pilot in Your Life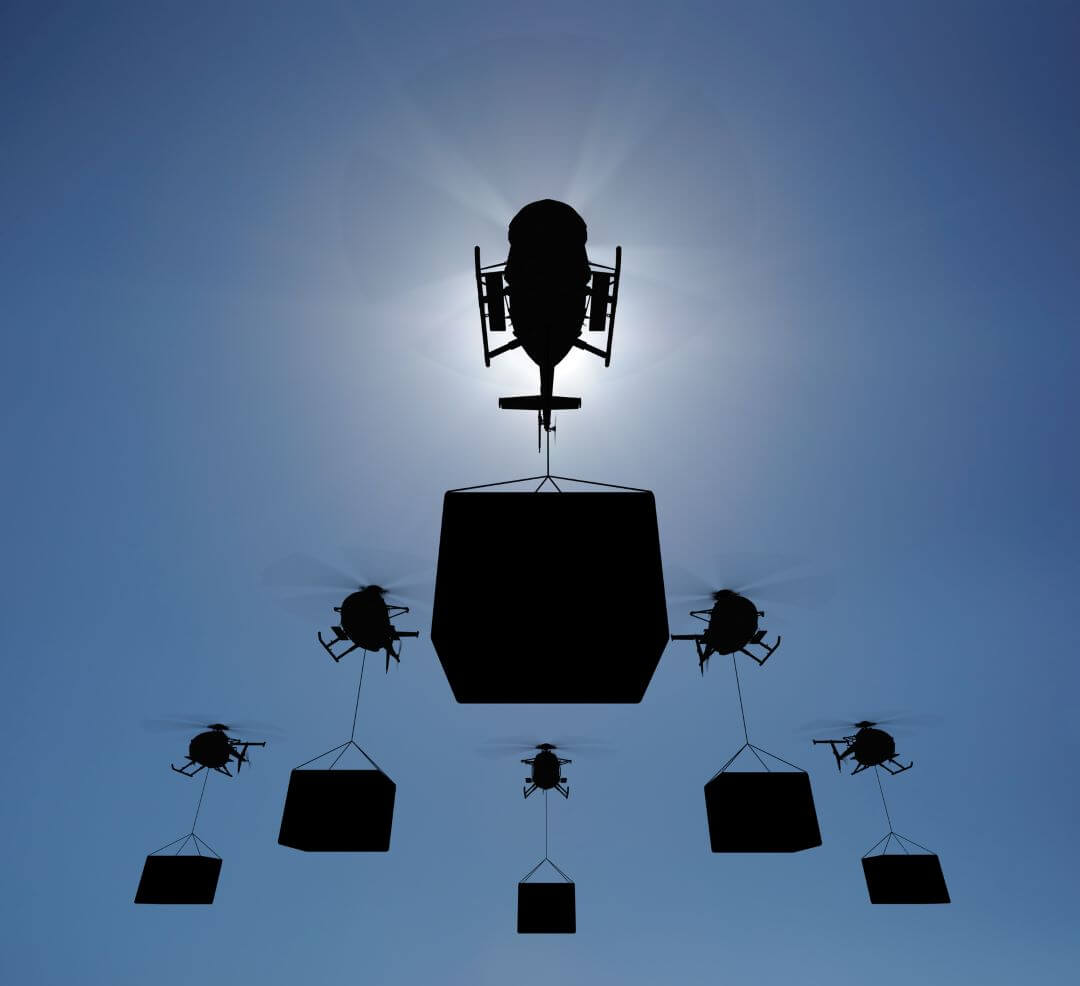 Helicopter pilots are a unique bunch. They have one of the most interesting and adventurous jobs on the planet, with a passion for flying that is unmatched by other aviators.
As a family member or close friend of a helicopter pilot, you know they work hard and put in long hours. In fact, they often sacrifice time with their loved ones in order to serve others. So, what can you do to show your appreciation for everything they do?
Well, for starters, you could surprise them this holiday season with a gift only a true rotorhead would love!
THE 5 BEST GIFTS FOR A HELICOPTER PILOT
That's right—if you're looking for the perfect gifts for a helicopter pilot, look no further. From flying essentials to fun gadgets, we've compiled a list of five creative ideas that are sure to please.
1. A Snazzy New Flight Jacket
A flight jacket is an essential part of any pilot's wardrobe, and one they'll wear in the skies with pride. But if your pilot is still sporting the same jacket they bought for flight school, perhaps it's time for a fashionable and functional upgrade!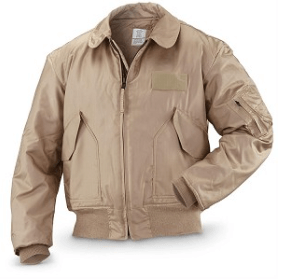 Personally, we love the MIL-SPEC DESERT TAN NOMEX CWU 45/P Flight Jacket from helicopterhelmet.com. This top-of-the-line military flight jacket is made in America and is currently being used by Air Force fighter pilots, so you know it's one of the best flight jackets money can buy.
2. An Altimeter Wall Clock
This wall clock isn't your ordinary timepiece—it looks just like the altimeter in their helicopter cockpit! It's sure to be the perfect focal point for any office, den, or man cave. Just be warned—your pilot may start showing up an hour or two early to events for some reason…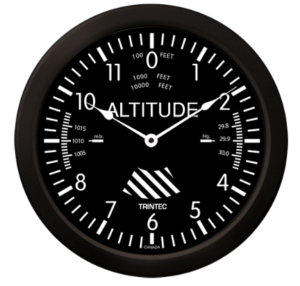 We really like the vintage look of this 14″ model from Trintec Industries. It's bold, clean, and incredibly authentic to the primary flight instrument. That said, they have tons of other altimeter wall clock sizes and designs to choose from over at mypilotstore.com.
3. A Personalized Logbook
Despite the fact that many routine aviation tasks have gone digital in recent years, many old-school helicopter pilots still love to physically chronicle their flights and adventures. If that sounds like the person you know and love, then why not give them a truly one-of-a-kind logbook?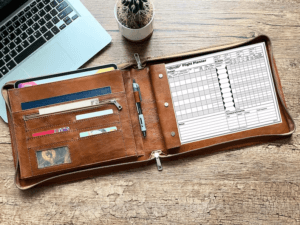 When it comes to personalized gifts, there's no better place to shop than Etsy. We found a really classy leather logbook from DCLeatherCraftStudio that comes with ring binders, card slots, and pen holders. It can even be custom engraved with their initials, name, favorite helicopter make/model, etc. for a truly personal touch.
4. A High-Tech Headset
Many helicopter pilots spend hundreds—if not thousands—of hours in the sky each year, and one of the most essential pieces of equipment they have on them at all times is their headset. That's because they need the noise-canceling feature to help keep them focused, the audio interface to send and receive critical communications, and the Bluetooth connectivity to keep them entertained on long flights.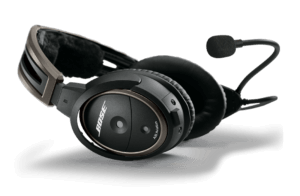 Because of this, the headset is not a gift you want to cheap out on, which is why we're recommending the best of the best here—the Bose A20 Aviation Headset. If you know one thing about Bose, it's that they provide superior sound quality, which definitely holds true in the case of the A20. They're also the most comfortable headset we've ever worn. And once your pilot experiences its exceptional noise reduction on display, they won't be able to go back to any other headset.
5. A Chopper Spotter
A lot of gift-givers focus their attention on things their helicopter enthusiast can use while in the air—and understandably so—but it's actually the time spent on the ground that's the biggest pain point for many pilots. That's because most current methods of getting helicopters in and out of the hangar are inefficient, time-consuming, and downright dangerous at times.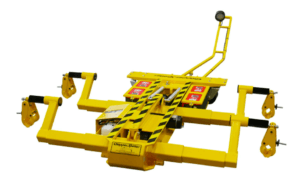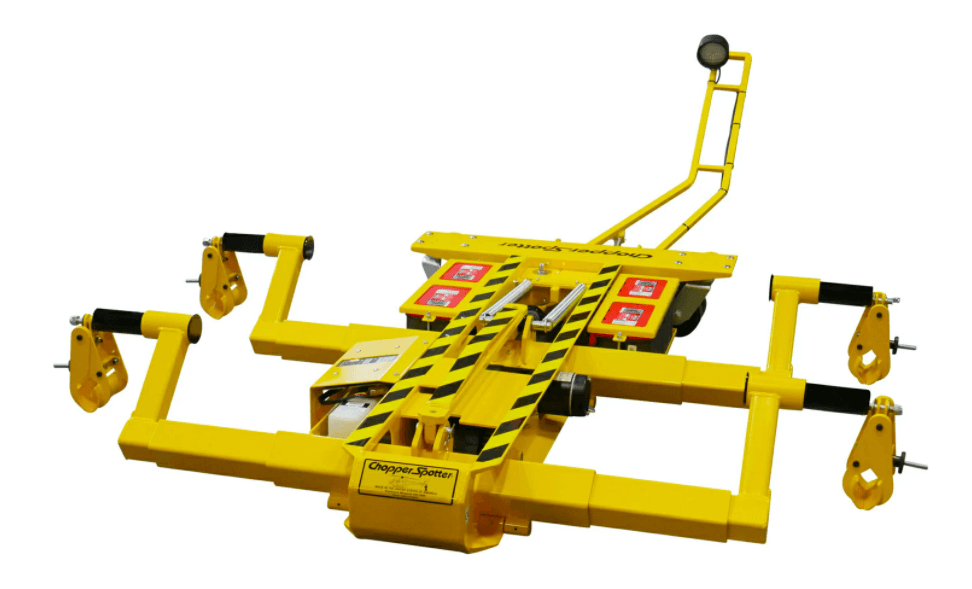 That's where the Chopper Spotter can make their lives a thousand times less stressful. The innovative design of the Chopper Spotter ground handling unit connects directly to the skids, resulting in a much safer and more secure method of movement. And the best part is, it's designed for effortless, single-operator use, so that means you'll no longer be called out to help stow away their helicopter!
FINAL THOUGHTS ON GIFTS FOR HELICOPTER PILOTS
We hope this holiday gift guide gave you some good ideas for what to get the helicopter pilot in your life. Whether they're a seasoned veteran or brand new to the cockpit, these presents are sure to make them smile and show them just how much you care.
And if you're still not sure what to get, remember that nothing beats the gift of companionship—so why not muster the courage and join them on their next flight? Whatever you do, we hope you have a safe and happy holiday season!