5 Tips for Safely Moving a Helicopter on the Ground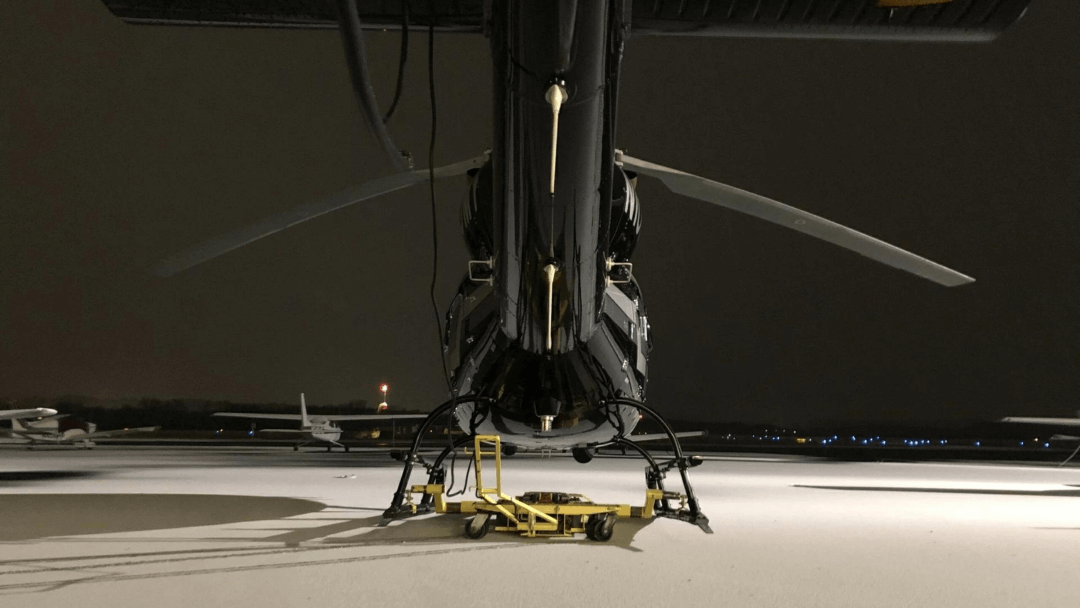 Whether you're a helicopter pilot, owner, or mechanic, you know that moving a helicopter on the ground can be a tricky process. While these incredible aircraft are designed to gracefully navigate the skies, maneuverability on the ground has always been a bit of an afterthought of their design.
If done hastily or incorrectly, you run the risk of damaging your prized helicopter or, worse yet, putting yourself or others in unnecessary danger. Fortunately, there are many things you can do to consistently ensure a safe trip from the hangar bay to the helipad—and back again.
Keep reading for five tips on how to safely move a helicopter on the ground.
1. MAKE SURE YOU HAVE ENOUGH SPACE
This one seems obvious, but it's worth repeating: plan ahead to make sure you have plenty of space to move the helicopter around on the ground. That means you have a large, level area that is free of debris and other obstacles. The last thing you want is to get your helicopter stuck in the mud or brush, or worse, collide with something while you're moving it around. Always be aware of your surroundings!
2. USE THE RIGHT EQUIPMENT
There are many different types of ground handling equipment available for helicopters, from dollies and tow carts to ground handling wheels and remote control aircraft tugs. Choosing the right tug for the job will not only make ground handling easier but will also help reduce the risk of damage to your helicopter.
3. FOLLOW THE PROPER PROCEDURES
In order to move a helicopter safely on the ground, you need to know and follow the proper procedures. Depending on the type of helicopter you're moving, there are many different protocols to adhere to, so be sure to consult your experienced pilots, mechanics, or owner's manual before moving your aircraft for the first time.
4. USE WHEEL CHOCKS AND/OR TIE-DOWNS
When moving a helicopter, it's always a good idea to use wheel chocks and/or tie-downs to keep it firmly in place. This will help reduce the risk of the helicopter tipping over or sliding, especially on a platform dolly or sea vessel. Even after you've finished moving the aircraft, we recommend keeping this equipment in place until everyone is boarded and you're ready to take off.
5. INSPECT THE HELICOPTER BEFORE AND AFTER TRANSPORTING IT
Last but not least, always inspect the helicopter before and after moving it to ensure that there is no damage. This includes checking for loose parts, cracks, or other signs of wear and tear that are all-too-common with certain types of ground-handling equipment.
By following these five simple tips, you can help ensure a safe and successful ground handling experience for your helicopter every time—and avoid any potential accidents or damage in the process! Looking to learn more? Read our tips for maintaining a helicopter fleet.
FOR AN ADDED LAYER OF SAFETY, CONSIDER USING CHOPPER SPOTTER PRODUCTS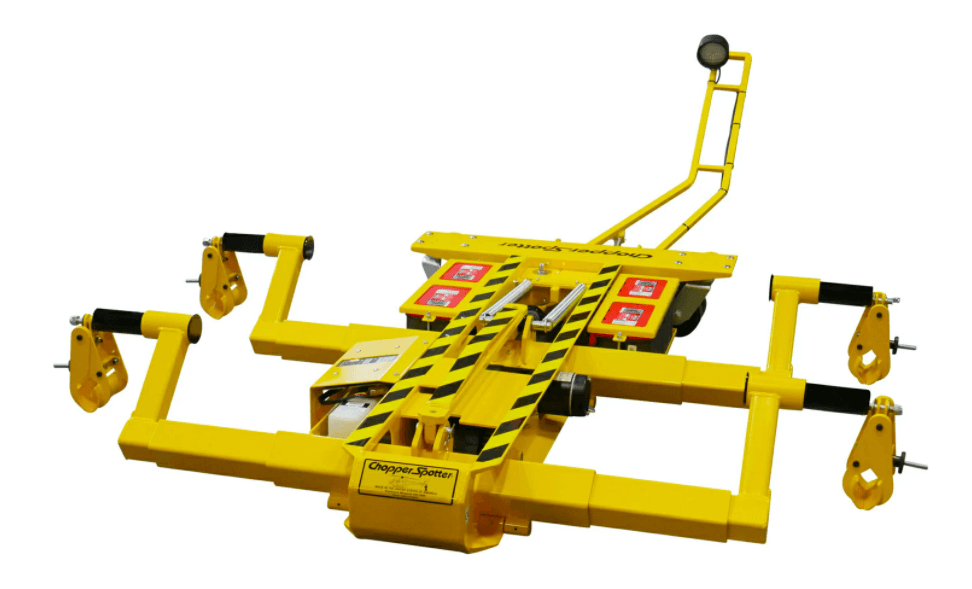 Chopper Spotter's line of ground handling equipment is designed with safety in mind, making it the perfect solution for anyone looking to move a helicopter over land. Our unique design connects directly to your helicopter at the skids, resulting in a much safer and more secure method of movement. See how it works in 7 easy steps to position your aircraft exactly as you need to—in even the toughest conditions.
Since 1989, we have provided this world-leading ground-handling capability from our facility right here in the U.S. For anyone with a helicopter, from hospitals and police departments to military organizations and private operations, we deliver full and total on-the-ground control so you can move and position your aircraft exactly as you need to. Request a quote today to start experiencing the ease and maneuverability of the industry's best ground-handling equipment.