12 Best Helicopter Movie Scenes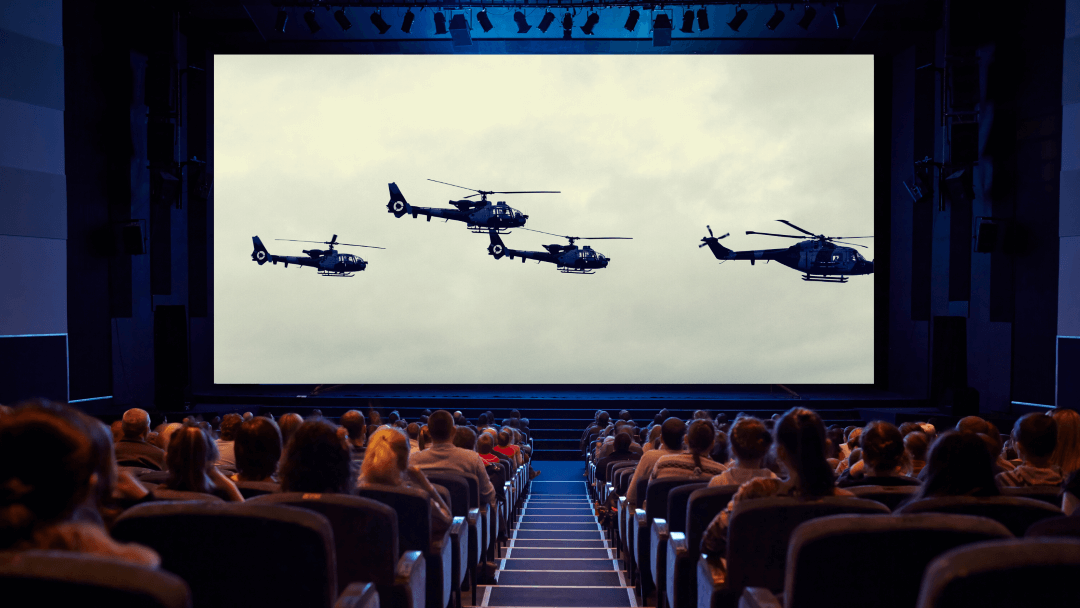 At Chopper Spotter, we're obviously huge fans of helicopters, and that unbridled enthusiasm naturally extends to the world of helicopter movies. Any time a chopper graces the screen, we can't help but get a little giddy, because if our moviegoing experience has taught us anything, it's that things are about to get really exciting!
Fortunately, Hollywood has provided us with an abundance of helicopter films, spanning a variety of different genres no less. Just to be clear, in order to make our list, the movie needs to actually feature a helicopter (sorry, "Helicopter Mom"). So, without further ado, here are our picks for the twelve best helicopter movie scenes.
12. TOMORROW NEVER DIES MOTORCYCLE/HELICOPTER MOVIE SCENE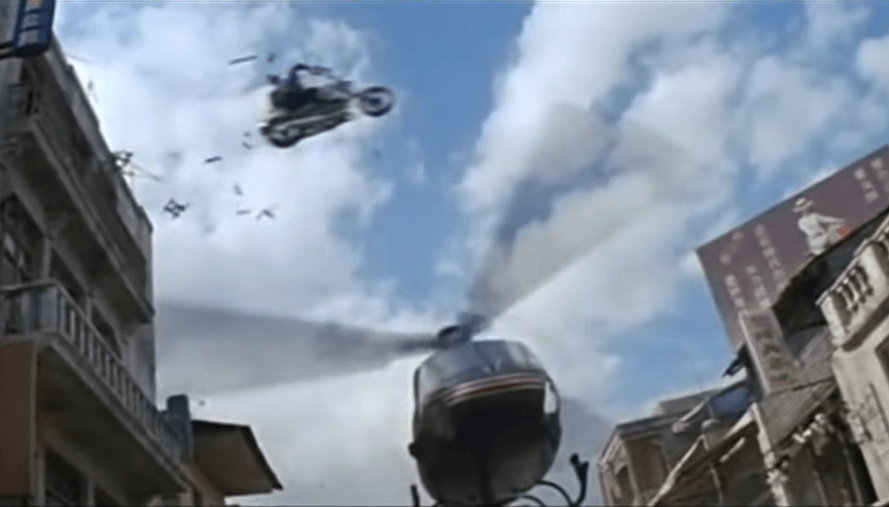 Featured Helicopter: Eurocopter AS355, a twin-engine light helicopter originally manufactured by Aérospatiale and sometimes referred to as Twin Squirrel. 
The acceleration, maneuverability, and narrow width of a motorcycle make it a tremendous escape adventage against most four-wheeled vehicles. Things get a little more harrowing when James Bond (Pierce Brosnan) is suddenly tracked from the sky. 
In this iconic scene from Tomorrow Never Dies, Bond foils his aerial pursuer with a death-defying jump *over* the descending chopper. The scene was a 1998 MTV Movie Award nominee for Best Action Sequence.
11. ESCAPE FROM L.A. HELICOPTER EXPLOSION SCENE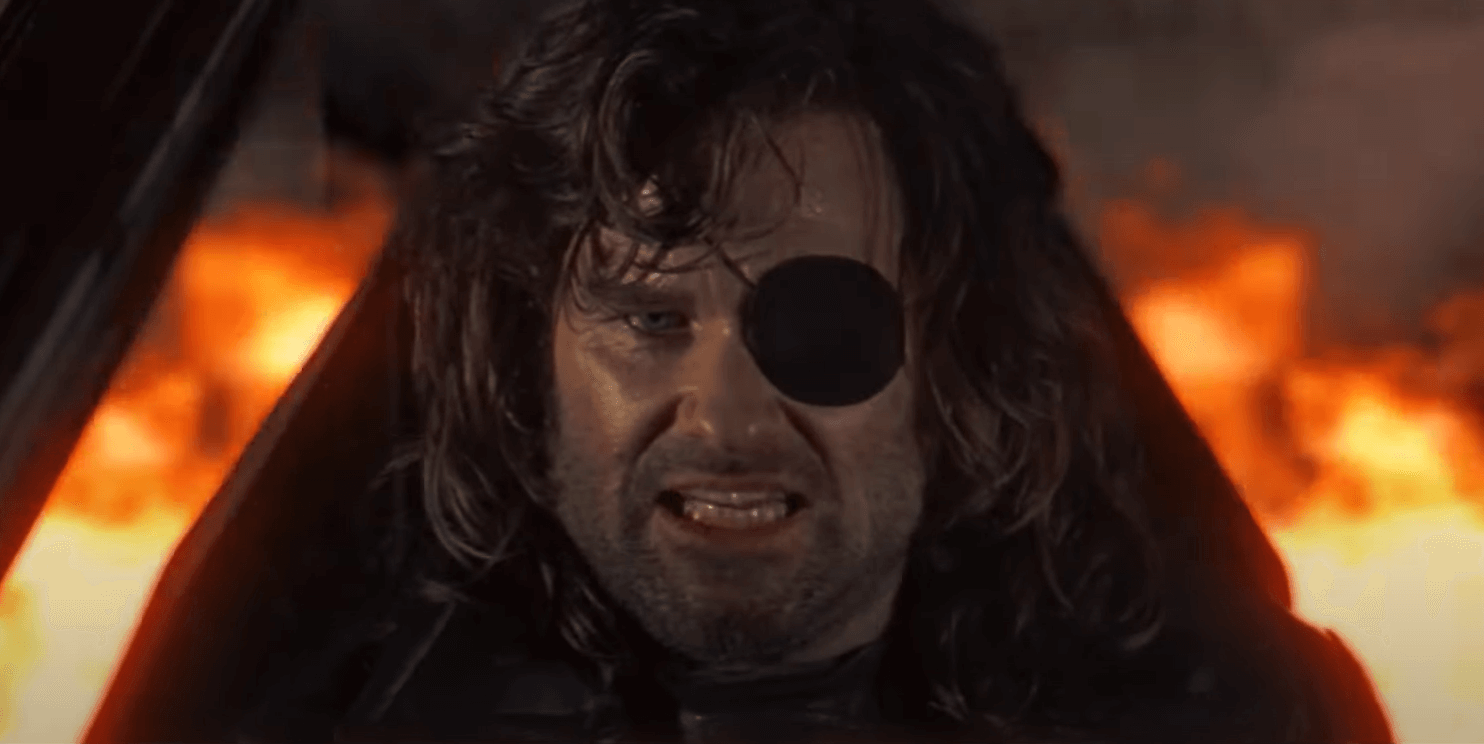 "The short-lived aerial escape" is a frequent trope of action movies and television shows, and one classic example can be found in the movie classic Escape from LA.
Piloted by S. D. "Snake" Plissken (played by Kurt Russell), the choppper is severely damaged by a rocket launcher. Trailing flames and smoke, it continues to fly untl Plissken ejects just in the nick of time. The helicopter hits the ground and bursts into an enormous explosion.
10. BLUE THUNDER HELICOPTER MOVIE SCENE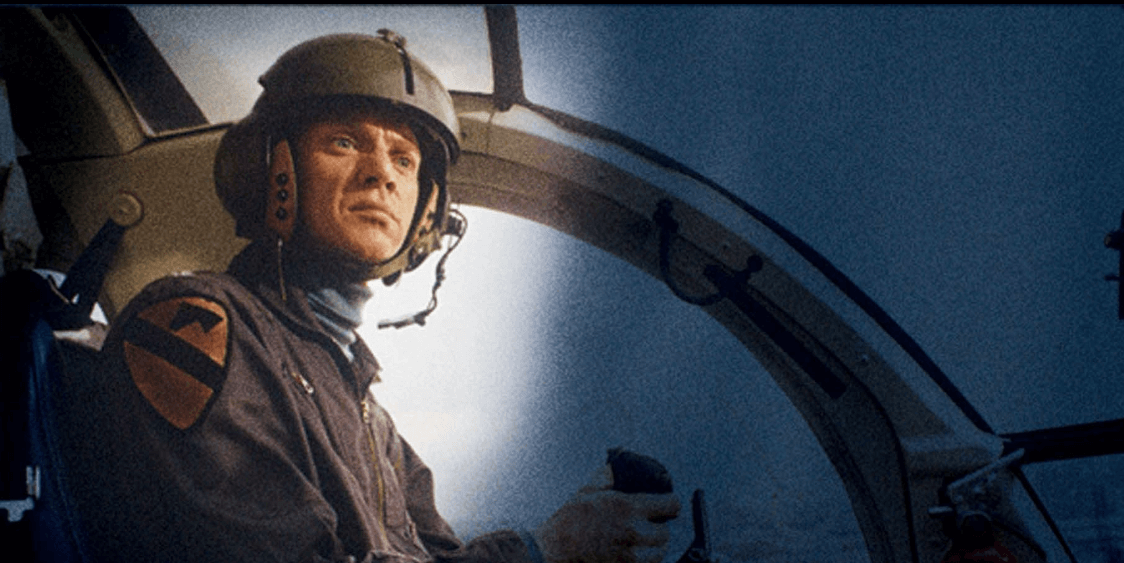 Featured Helicopters: Modified Aérospatiale SA-341G Gazelle, Bell 206B JetRangers
As the only true "helicopter film" on this list, it would be a huge oversight not to include the 1983 action thriller Blue Thunder. The plot centers around a Los Angeles police officer who is chosen to test pilot an experimental attack helicopter. Unfortunately, he soon finds out the government's real intentions for the high-tech chopper, forcing him to do whatever it takes to keep the superweapon out of their hands.
In this intense clip, officer Frank Murphy (Roy Scheider) leads two fellow police helicopters on a harrowing chase through the iconic LA River.
9. BLACK HAWK DOWN HELICOPTER SCENE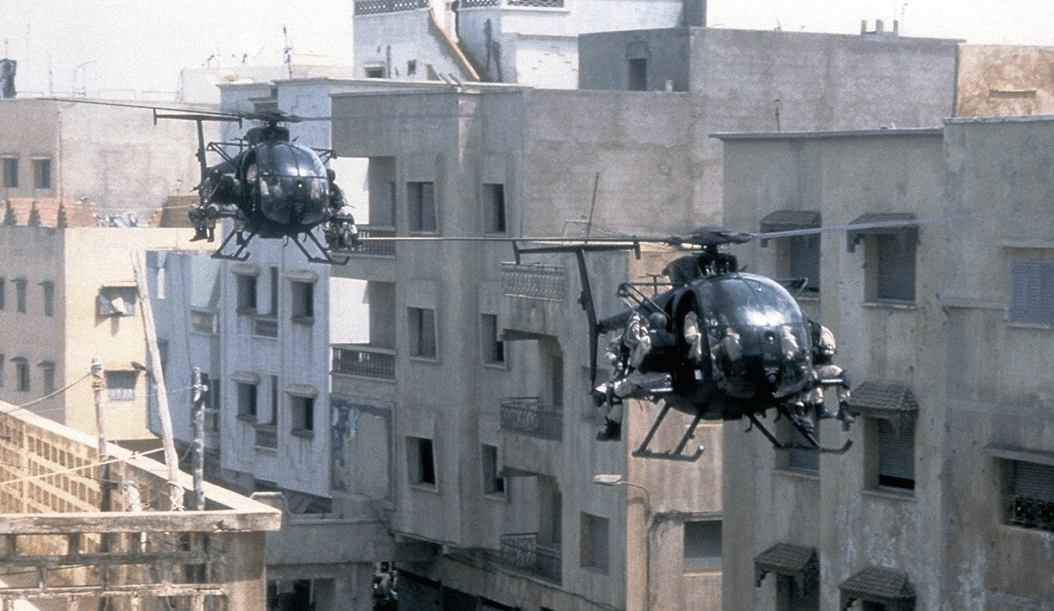 Featured Helicopter: Sikorsky MH-60L Black Hawk
A proper list of Hollywood helicopter scenes wouldn't be complete without the 2001 blockbuster Black Hawk Down. Directed by Ridley Scott, this film stars Josh Hartnett, Eric Bana, and Ewan McGregor, and follows the true story of a group of U.S. soldiers as they attempt to rescue and defend a downed Black Hawk and its crew from advancing Somali forces.
The clip above shows an RPG taking out the tail rotor, causing the helicopter to spiral out of control and land hard, culminating in the namesake line: "We have a Black Hawk down."
8. TERMINATOR 2: JUDGEMENT DAY HELICOPTER SCENE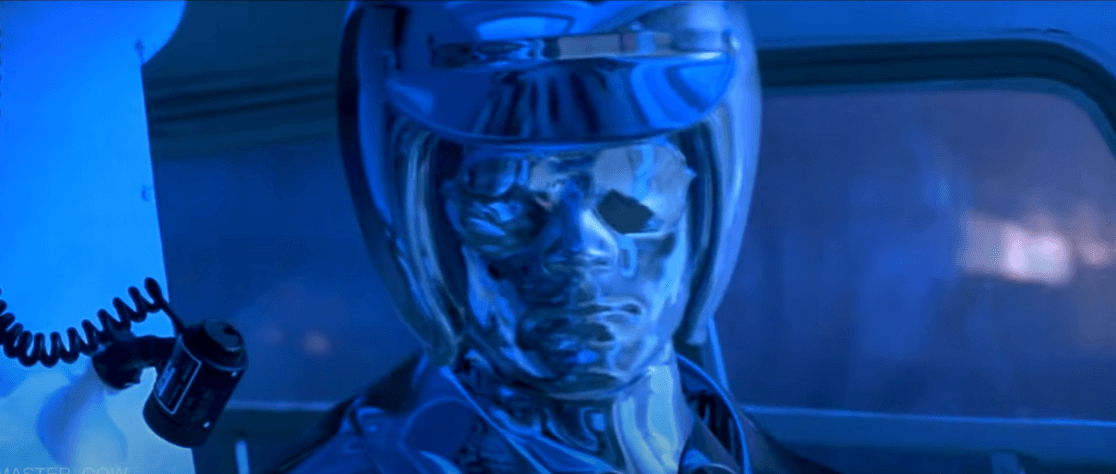 Featured Helicopter: Bell 206B JetRanger
Regarded by many as one of the greatest sci-fi action flicks of all time, this 1991 James Cameron sequel brings back gritty survivalist Sarah Connor (Linda Hamilton) and the legendarily imposing T-500 Terminator (Arnold Schwarzenegger). This time around, the two of them must team up to protect Sarah's son, John, from the ruthless pursuit of a new-and-improved T-1000 Terminator (Robert Patrick).
In this memorable scene from Terminator 2, the T-1000 launches a police motorcycle out of a two-story window, latches onto a police helicopter, and "morphs" his way into the cockpit to give chase to our intrepid heroes.
7. LIVE FREE OR DIE HARD HELICOPTER SCENE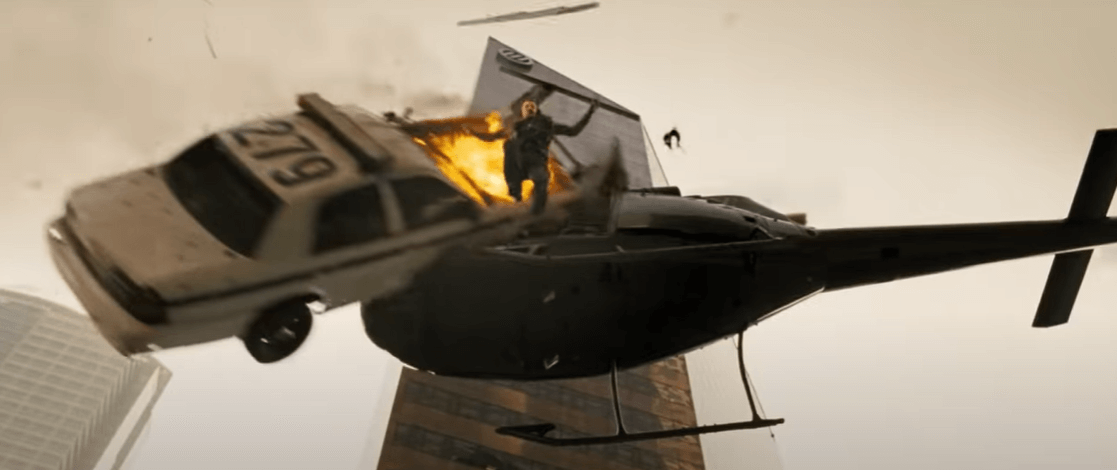 Featured Helicopter: Eurocopter AS350 B2 Astar (now the Airbus H125)
While far from the best film in the Die Hard franchise, the 2007 action thriller Live Free or Die Hard follows reluctant New York cop John McClane (Bruce Willis) as he continues his incredible streak of bad luck by once again pissing off the wrong guy.
Unlike the rest of the scenes on this list, we don't follow the point of view of the helicopter. Instead, McClane and the young hacker he's trying to protect (Justin Long) are trapped in a tunnel with no way out. That's where our hero gets the absurdly brilliant idea to launch a police car into the air, right toward the waiting helicopter.
6. KONG: SKULL ISLAND HELICOPTER MOVIE SCENE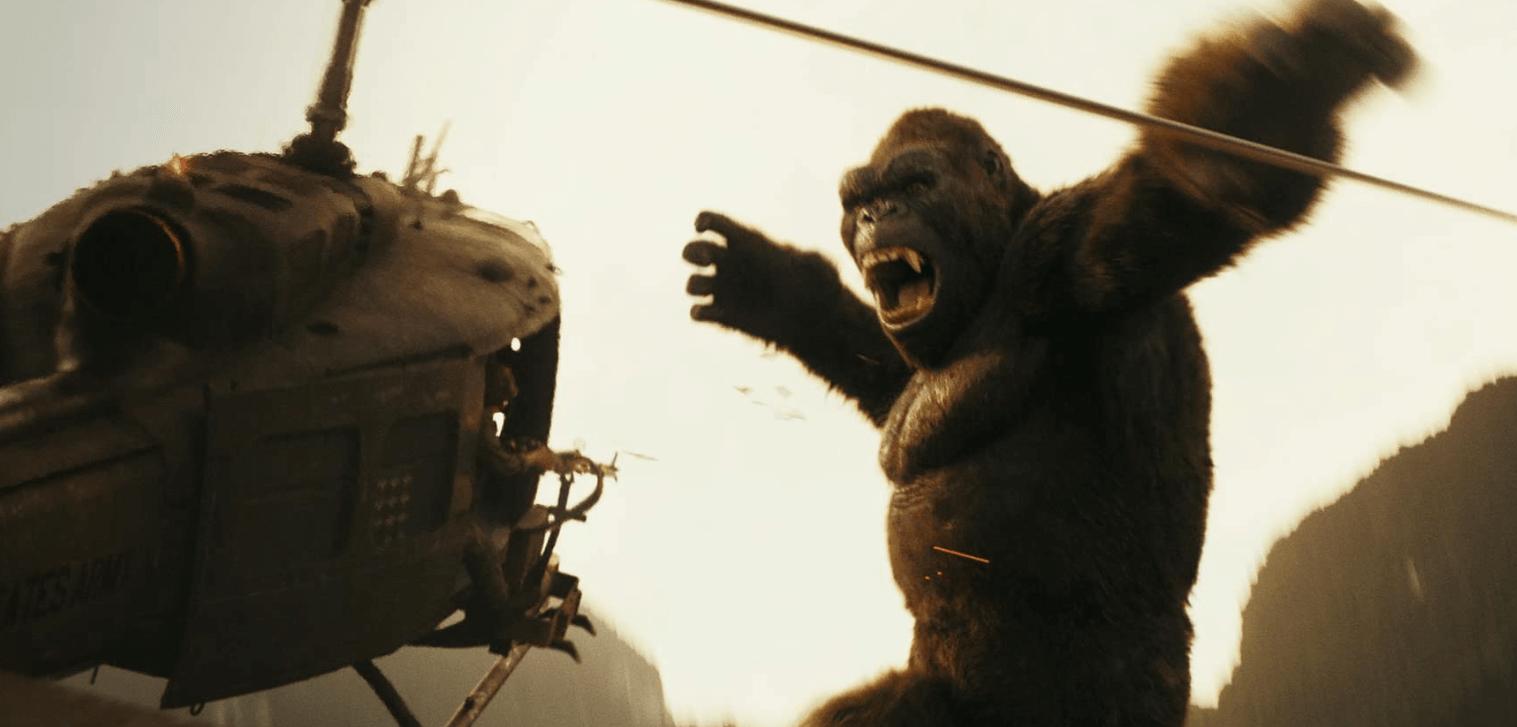 Featured Helicopters: Bell UH-1 Iroquois "Huey", Boeing CH-47 Chinook, Sikorsky HH-53 "Super Jolly Green Giant"
2017's Kong: Skull Island features a superhero lineup of Brie Larson (Captain Marvel), Tom Hiddleston (Loki), and Samuel L. Jackson (Nick Fury) as they set out to explore a mythical, uncharted island. Little do they know it's home to the mighty Kong, quickly turning their mission of discovery into a fight for survival.
While King Kong of the 1930s battled biplanes atop the Empire State Building, this more recent—and much more ruthless—incarnation of the great ape takes on an entire fleet of military helicopters in one of the most intense 5-minute sequences in cinema history.
5. OUTBREAK HELICOPTER SCENE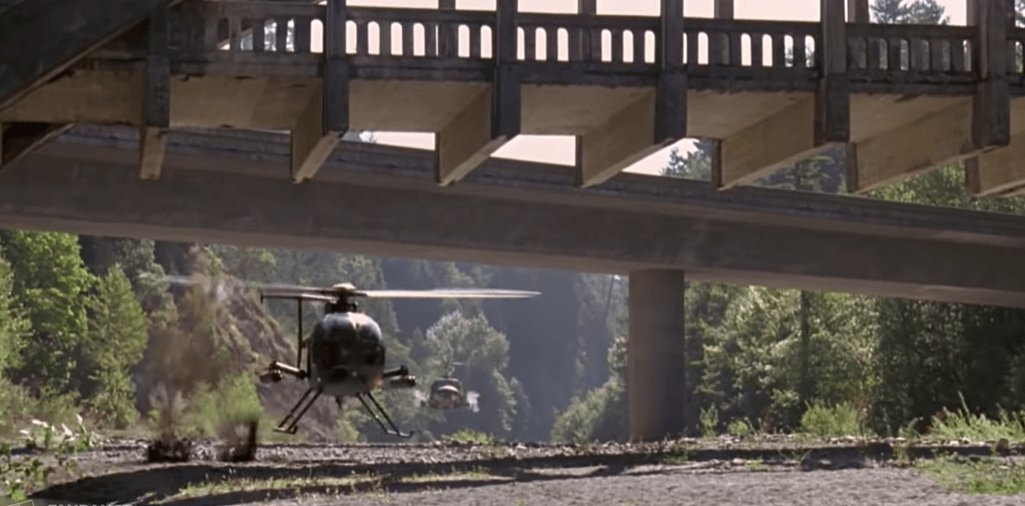 Featured Helicopters: Hughes OH-6 (Model 500) "Loach", Bell UH-1 Iroquois "Huey"
Outbreak is a 1995 thriller that may not be as well known as other entries on this list but features an all-star cast of names you'd certainly recognize, such as Dustin Hoffman, Rene Russo, Morgan Freeman, Kevin Spacey, and Donald Sutherland. The plot revolves around a dangerous airborne virus and the team of doctors brought in to control its spread as they race against time to save the nearby town and its residents.
In the featured scene, contagious disease expert Sam (Hoffman) and his pilot, Major Salt (Cuba Gooding Jr.) have captured the host animal but are soon confronted by Major General Donald McClintock (Sutherland) which leads to an exciting helicopter chase through a scenic river valley.
4. MISSION: IMPOSSIBLE – FALLOUT HELICOPTER SCENE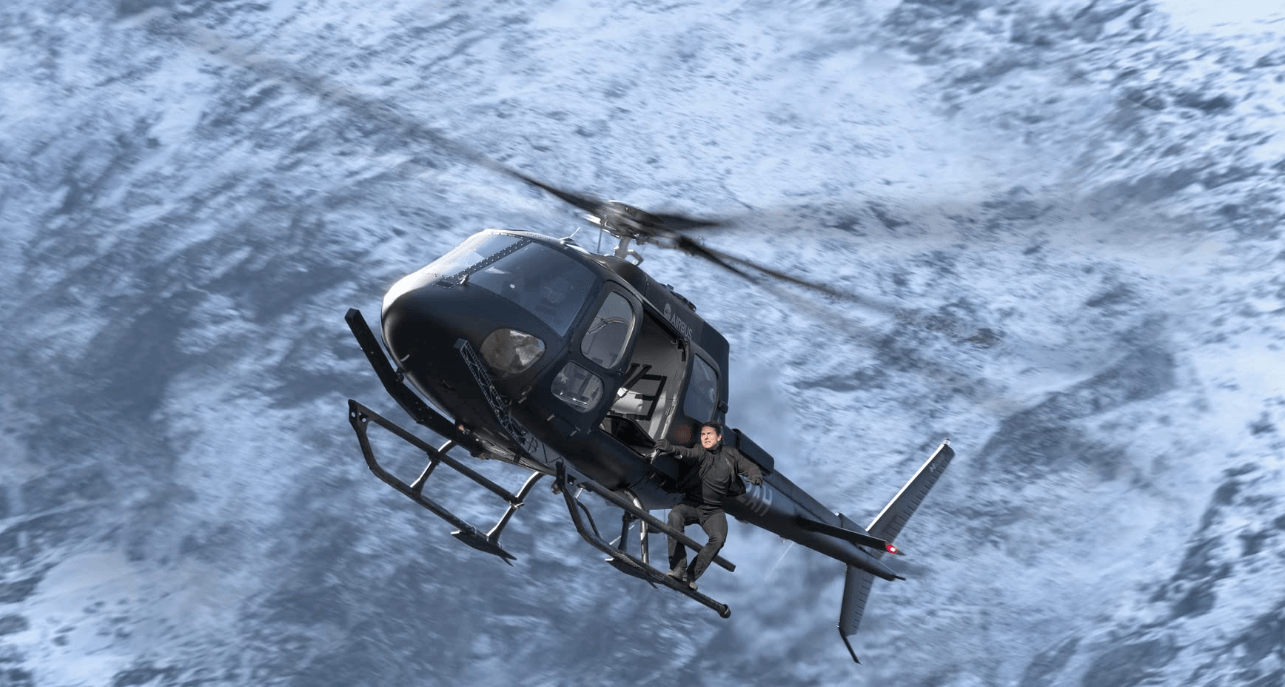 Featured Helicopters: Eurocopter EC145 (now Airbus Helicopters H145), Airbus Helicopters H125 (formerly Eurocopter AS350 Astar)
While the 1996 "Mission: Impossible" also featured a daring helicopter scene, 2018's Mission Impossible: Fallout really one-upped it with this stunt-packed action sequence. What makes it even more impressive is that—in true "Mission: Impossible" fashion—Tom Cruise learned to pilot an actual helicopter in order to make this scene as realistic as possible!
SPOILER ALERT: This scene takes place toward the climax of the film and features Ethan Hunt (Cruise) pursuing the villainous August Walker (Henry Cavill) as their helicopters wind and weave through mountainous terrain. The scene eventually leads to a brutal clifftop fistfight that cleverly incorporates one of the downed choppers to turn the tide of the battle.
3. RAMBO: FIRST BLOOD PART II HELICOPTER SCENE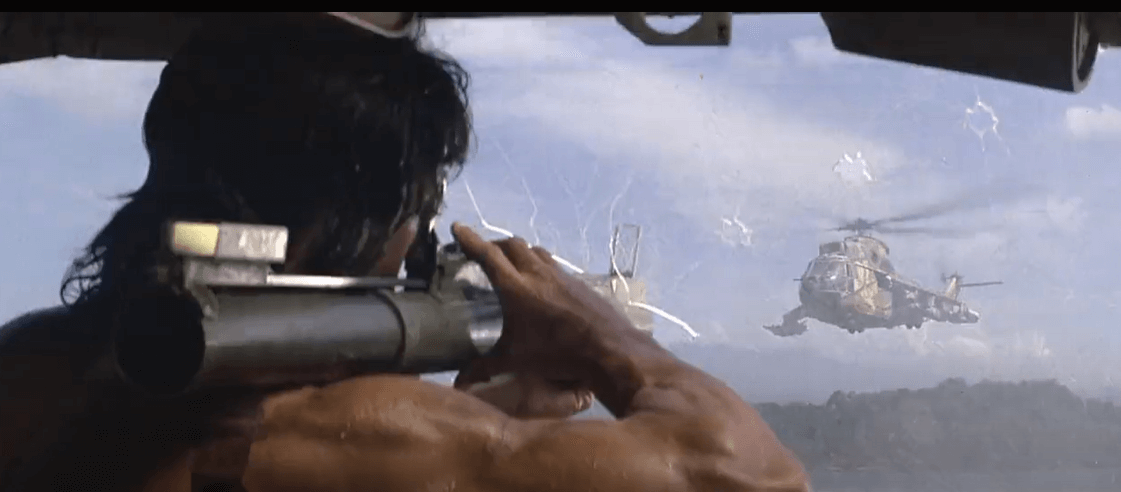 Featured Helicopters: Bell 212, Aérospatiale SA 330 Puma
We think it's safe to say that Rambo does not like helicopters. While "Rambo: First Blood" includes a memorable helicopter scene, and 1988's "Rambo 3" features not one, not two, but THREE helicopter scenes of its own, it's this one in Rambo: First Blood Part 2 that ultimately made our list.
In this film, Sylvester Stallone's muscle-bound war hero travels to Vietnam to rescue American prisoners of war and expunge his criminal record in the process. Of course, things don't quite go as planned, and Rambo soon finds himself being chased by a relentless attack helicopter. That is, until the explosive twist at the end.
2. SPECTRE HELICOPTER SCENE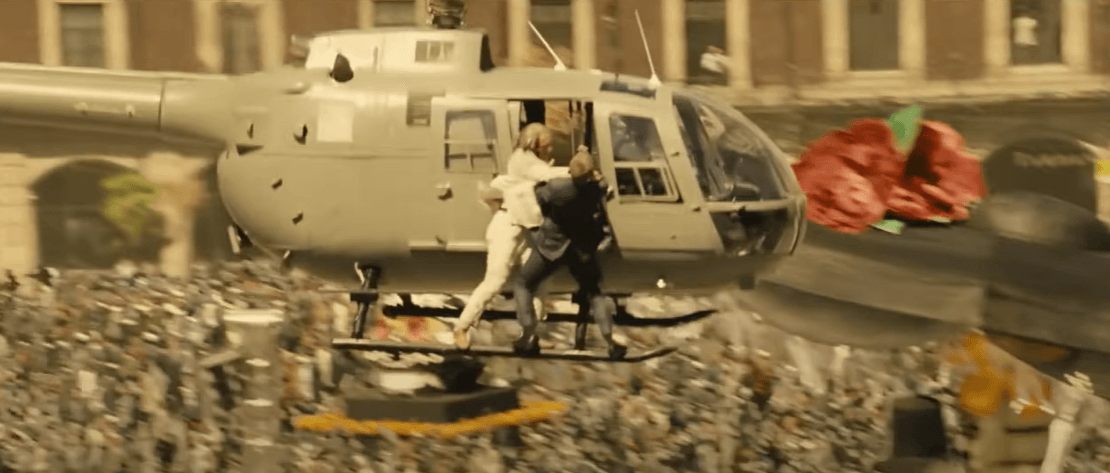 Featured Helicopter: Messerschmitt-Bölkow-Blohm Bo 105
When you watch a Bond film, you know you're getting at least three things: clever gadgets, gorgeous women, and a few great over-the-top action sequences. 2015's Spectre—Daniel Craig's fourth outing as the titular British spy—is certainly no exception.
This particular scene takes place before the opening title sequence and finds Bond in pursuit of a mysterious man in Mexico City. As the two men—and the pilot—duke it out in the cabin, the helicopter can be seen doing barrel rolls and backflips above a crowded plaza of people celebrating Dia de Los Muertos. By the end of it, the chopper—and your stomach—will have been shaken, not stirred.
1. APOCALYPSE NOW HELICOPTER SCENE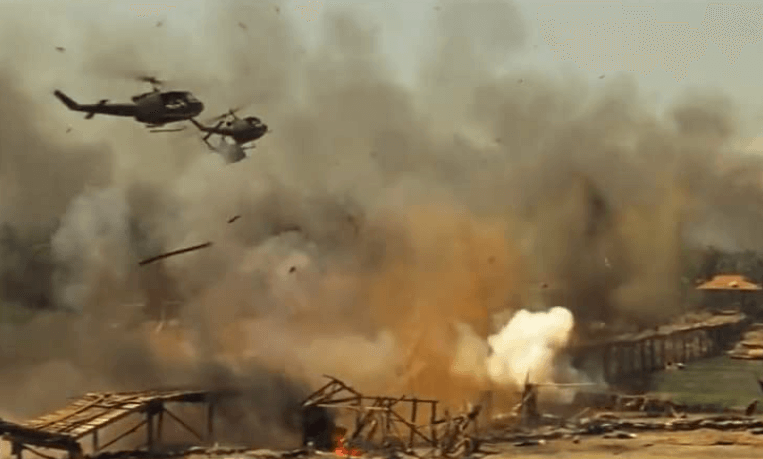 Featured Helicopters: Bell UH-1 "Huey", Hughes OH-6 "Loach"
Directed by the legendary Francis Ford Coppola, Apocalypse Now is undeniably one of the greatest war epics of our time. Starring the likes of the late Marlon Brando, Martin Sheen, and Robert Duvall, this movie takes place during the Vietnam War and follows a group of soldiers tasked with assassinating a renegade colonel in Cambodia.
While the opening montage—set to a hauntingly beautiful score by The Doors—also uses helicopters to great thematic effect, it's the Ride of the Valkyries scene above that moviegoers will never forget. Its juxtaposition of a tranquil, calm-before-the-storm ride over the ocean with a chaotic, edge-of-your-seat battle above the beaches is what truly earns its title as one of the greatest helicopter scenes of all time.
HONORABLE MENTION: PREDATOR "CHOPPER" SCENE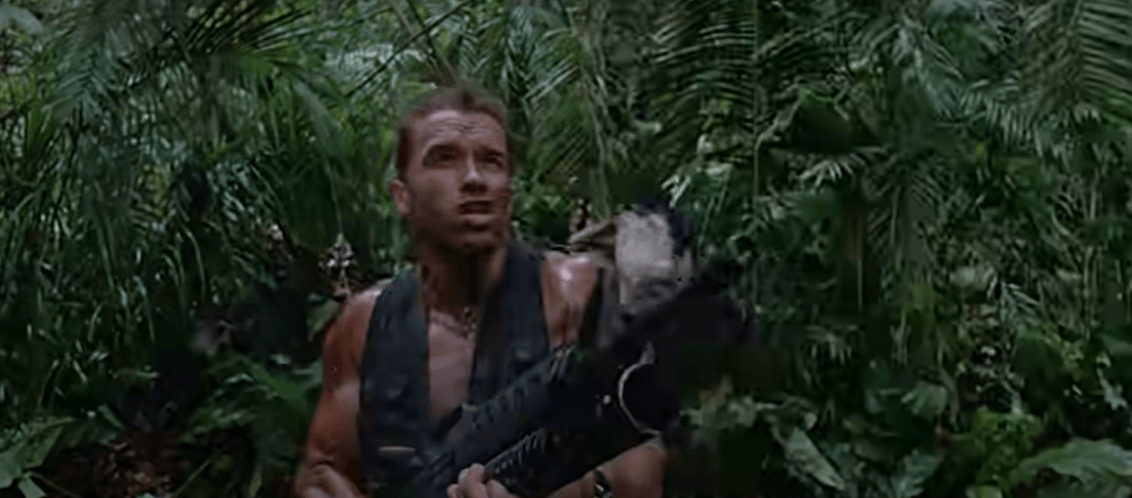 Despite the film not having any significant helicopter scenes, it's next to impossible to think of helicopters in cinema without hearing Arnold Schwarzenegger's iconic line from Predator playing over and over in your head.
"Get to da choppa!"
Did we miss any great scenes of helicopters in movies? We'd love for you to let us know!
PUT YOUR "CHOPPA" FIRMLY IN ITS PLACE WITH CHOPPER SPOTTER
Since 1989, Chopper Spotter has provided helicopter owners and operators with world-leading ground-handling solutions right here in the U.S. For anyone with a helicopter, from hospitals and police departments to military organizations and private operations, we deliver full and total on-the-ground control so you can move and position your aircraft exactly as you need to. Request a quote today to start experiencing the ease and maneuverability of the industry's best ground-handling equipment.