Comparing 3 Different Types of Helicopter Ground Handling Equipment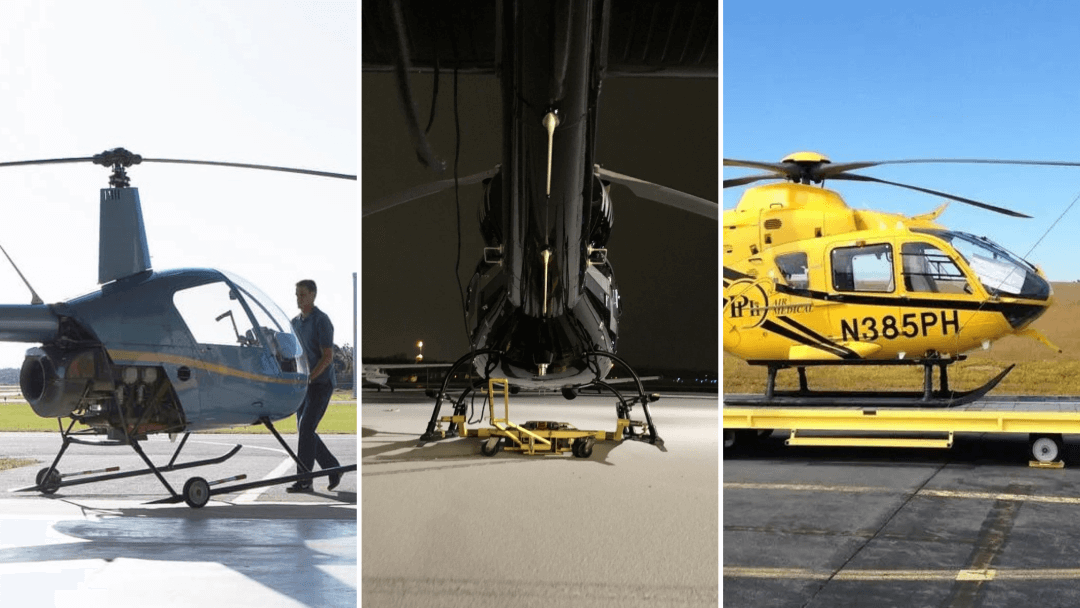 Thanks to their revolutionary design, helicopters are—by far—the most majestic and agile machines to have ever roamed the skies. Unfortunately, that same unique design prevents them from being similarly maneuverable on the ground. That's why one of the questions we hear most from those that are new to the rotorcraft industry is:
How do helicopters move around on the ground?
The answer to this question depends on what type of landing gear the helicopter has:
Helicopters with wheels can be easily moved using a towbar and tow vehicle, or by using the thrust of its main rotor when running.
Helicopters with skids can only be moved with the use of specialized ground-handling equipment.
WHAT IS THE BEST HELICOPTER GROUND-HANDLING EQUIPMENT FOR SKIDDED HELICOPTERS?
Whether you're a helicopter pilot, owner, or mechanic, this guide will provide you with an in-depth overview of the three main types of helicopter ground-handling equipment: wheels, dollies, and tow carts.
For our equipment comparisons, we'll look at key characteristics such as cost, safety, and ease of operation. With knowledge about what's out there on the market, we hope to equip aviation professionals like you with the information you need to make the best choice for successfully maneuvering your skidded aircraft. Let's begin.
HELICOPTER GROUND-HANDLING WHEELS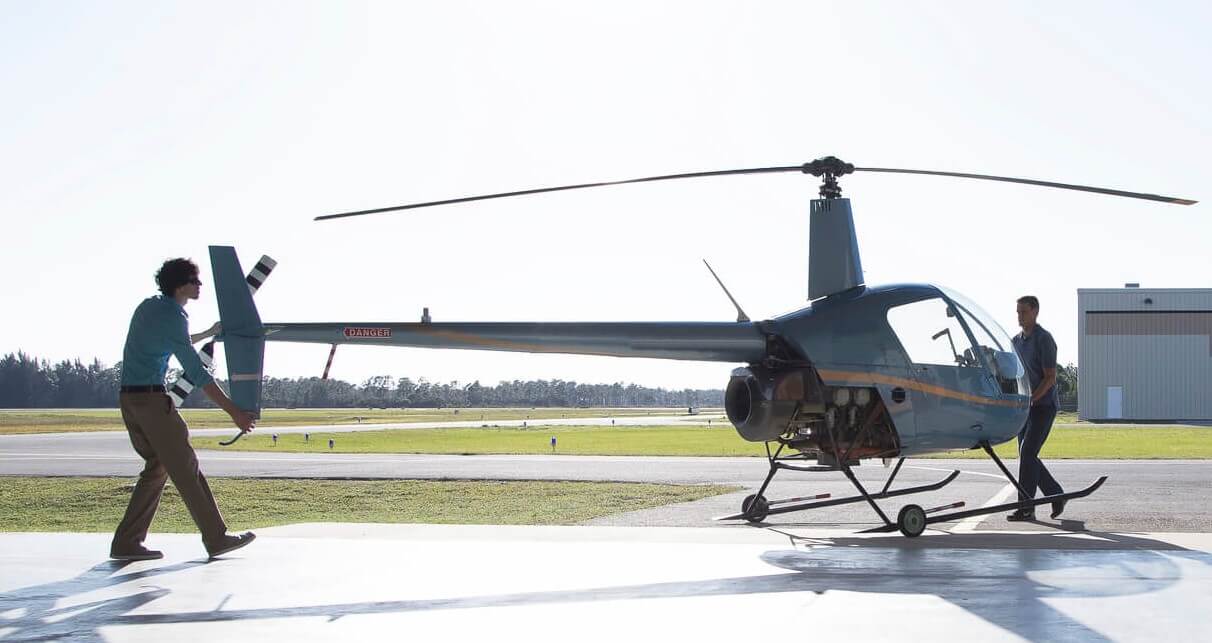 How do helicopter ground handling wheels work?
Helicopter ground-handling wheels can be temporarily attached to the skids to support the full weight of the helicopter, so when it is pushed or pulled, none of its components touch the ground. Small, two-seated helicopters—such as the Robinson R22 and Cabri G2—can be lifted with a simple cam mechanism and moved by a single operator. Larger, heavier helicopters—such as the Airbus H125 and Bell 407—require a hydraulic mechanism to lift the skids and a powered tow device or multiple people to move them.
How much do helicopter ground handling wheels cost?
Most new helicopters are shipped from the manufacturer with a set of ground-handling wheels included, making them by far the most affordable ground-handling option. Depending on the style and weight requirements of your helicopter, replacement wheels will set you back anywhere from $400 – $4,000.
Pros:
Relatively easy to attach and remove.
Cheaper than other ground-handling options.
Cons:
Not suitable for rough or unlevel terrain.
Requires multiple people to lift and move.
Often requires the use of a tow vehicle.
No built-in breaking mechanism.
HELICOPTER DOLLIES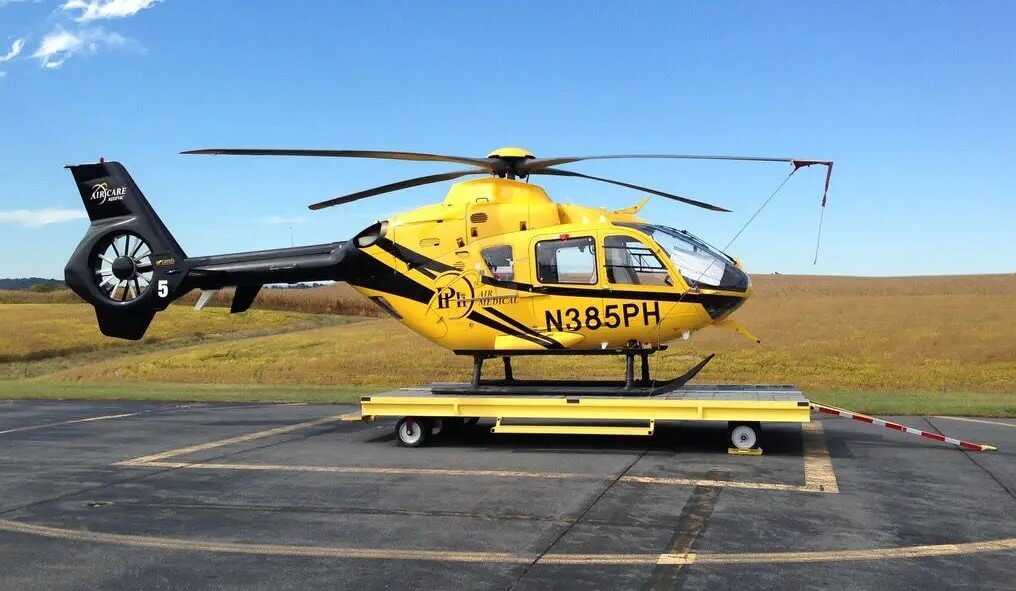 How does a helicopter dolly work?
Helicopter dollies are large, wheeled platforms that are moved into place using some form of a powered tow vehicle. The dolly is first anchored down—typically using wheel locks or chocks—and then the pilot carefully lands the helicopter on top of the platform, allowing it to be easily maneuvered into the hangar.
How much does a helicopter dolly cost?
Helicopter dollies can range in price, depending on the size and weight requirements of your helicopter. You can expect to pay anywhere from $10,000 – $45,000 for a standard dolly setup.
Pros:
Can work with any skidded helicopter.
Simple and durable design can last for many years.
Cons:
Makes landing more difficult and dangerous for pilots.
Locking/anchoring systems are known to fail.
Requires a separate tow vehicle to move.
Takes up a lot of room in storage.
HELICOPTER TOW CARTS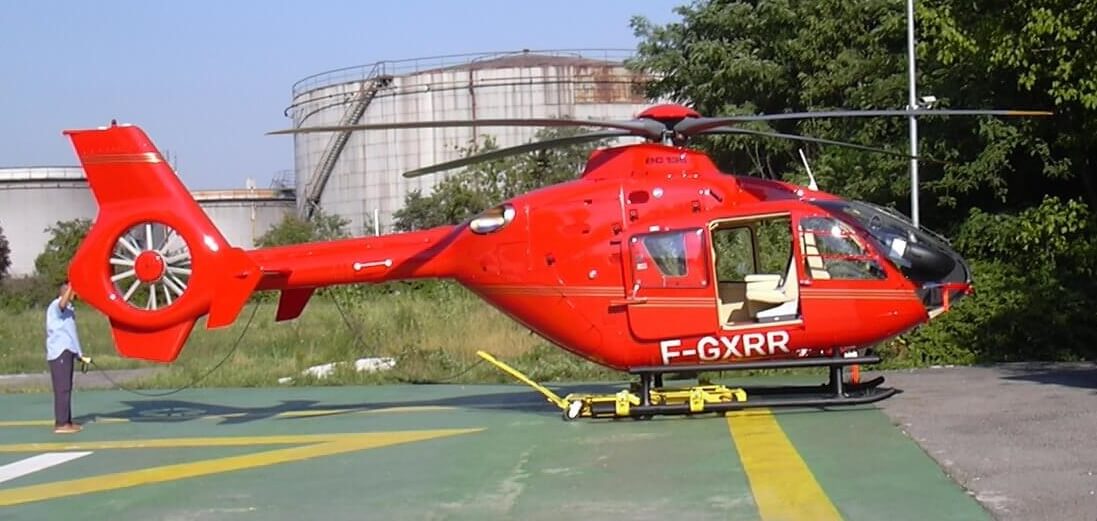 How does a helicopter tow cart work?
Tow carts, also known as helicopter tugs, are specialized, lightweight ground-handling units designed to move even the largest helicopters with only a single operator. They are moved into place via small, electric motors and then attached to either the helicopter's skids or fuselage. The operator then lifts and moves the cart using a joystick-like controller to maneuver the helicopter in even the tightest of spaces.
How much does a helicopter tow cart cost?
The price of a helicopter tow cart will depend largely on its features and maximum lifting capacity, but you can expect to pay anywhere from $10,000 – $30,000 for a single unit.
Pros:
Adjustable yokes to fit any helicopter.
Very easy for a single person to operate.
Full maneuverability for up to 360-degree turns.
Variable speeds and braking action for increased safety.
A smaller footprint allows it to be stored underneath the helicopter.
Can include an optional Auxiliary Power Unit.
Cons:
Can be more expensive than other ground-handling options.
Can only be used on flat, solid-packed surfaces.
EXPERIENCE THE ULTIMATE HELICOPTER TOW CART SOLUTION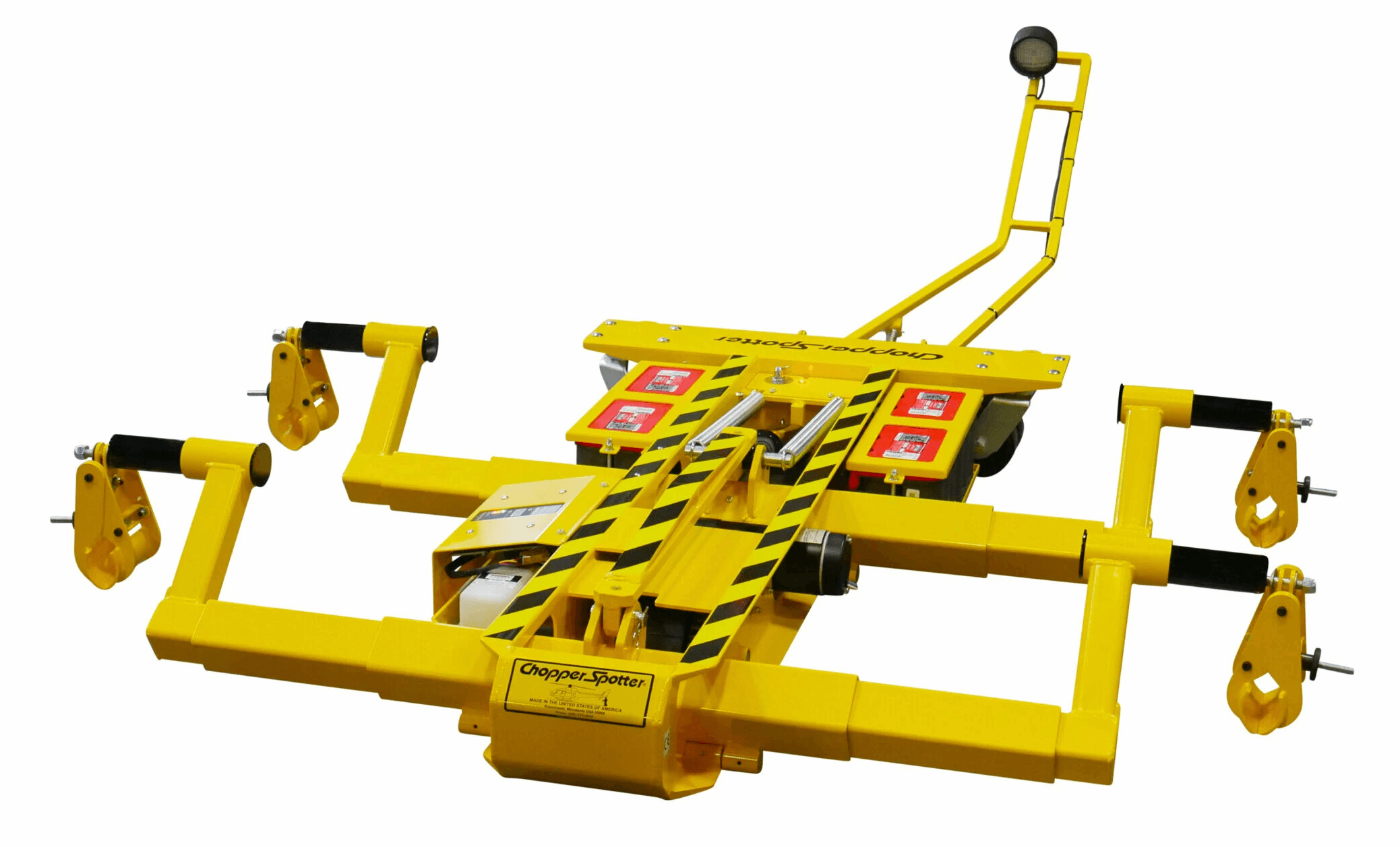 For aviation professionals and helicopter owners alike, the Chopper Spotter tow cart offers an easy-to-operate, affordable solution for safely maneuvering skidded helicopters. It is an all-inclusive unit that comprises a powerful electric motor, a wireless controller, and an integrated hydraulic lift system. And its lightweight construction allows for single-person operation so you can save time and money on labor costs.
This combination of features makes it the best helicopter ground-handling experience available. It's guaranteed to make your operations smoother, easier, and infinitely safer—so if you're in the market for an efficient helicopter tow cart, get your hands on a Chopper Spotter today!