Sustainable Aviation Fuel: 7 Things Every Helicopter Pilot Needs to Know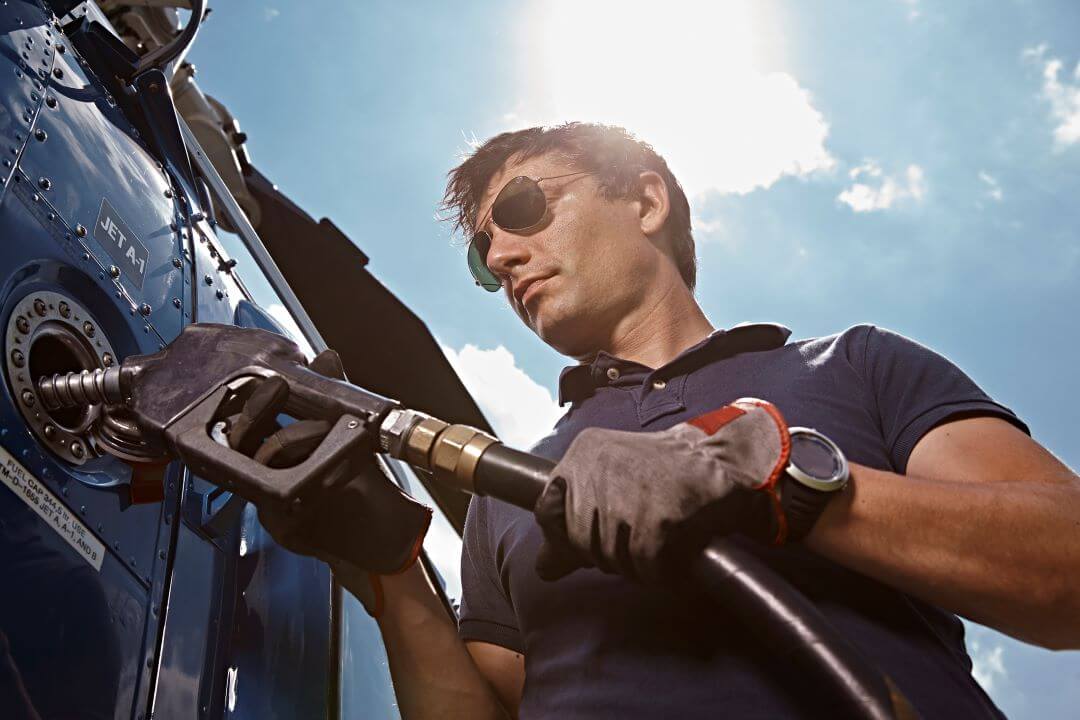 It's no surprise that air travel has had a significant impact on our environment. In fact, the aviation industry currently accounts for 12% of all transportation-related carbon emissions globally—but if we don't take immediate action, that number is expected to double by the year 2050.
Obviously, abandoning the skies is not an option. And powering helicopters with alternative energy sources—such as electricity and hydrogen—is still too many years away from being a practical solution. So what does that leave us with?
Sustainable aviation fuel.
We get it—as a pilot, you've probably already heard a lot of chatter, and we're willing to bet you'll need quite a few questions answered before you'll consider making such a critical switch. With that said, here are the seven things all helicopter pilots need to know about sustainable aviation fuel and what it means for the future of the helicopter industry.
1. WHAT IS SUSTAINABLE AVIATION FUEL?
Sustainable aviation fuel (SAF), also known as aviation biofuel, is a fully sustainable, ready-blended jet fuel that is specifically formulated to drastically reduce carbon dioxide (CO2) emissions. Unlike other alternative energy options—such as fully electric and hybrid helicopters—SAF is a drop-in solution, meaning it doesn't require new engine, airframe, or fuel delivery system redesigns.
While sustainable aviation fuel has been a staple of the fixed-wing world for well over a decade now, the rotary-wing industry has been far more hesitant to adopt it. Fortunately, the winds are about to change, as helicopter pilots around the world are realizing the potential of SAF and embracing a smaller carbon footprint lifestyle.
2. WHAT IS SUSTAINABLE AVIATION FUEL MADE FROM?
According to the U.S. Office of Energy Efficiency & Renewable Energy, "an estimated 1 billion dry tons of biomass can be collected sustainably each year in the United States, enough to produce 50-60 billion gallons of low-carbon biofuels." That's because there are literally dozens of different natural and natural byproduct resources from which SAF can be produced.
These include:
Corn grain
Oil seeds
Fast-growing plants and algae
Cooking oils, fats, and greases
Agricultural residues
Forestry and wood mill waste
Solid municipal waste
Wet wastewater treatment sludge
Specialized production facilities then formulate these ingredients into what's known as "neat" SAF—essentially a 100% sustainably-sourced product. It is then mixed with conventional petroleum-based jet fuel (typically a 40% – 50% SAF concentration) which makes it safe and ready-to-use in nearly all aircraft.
3. WHAT ARE THE BENEFITS OF USING SUSTAINABLE AVIATION FUEL?
While there are many advantages of using SAF, there are three distinct benefits that stand out the most:
Fewer CO2 Emissions
Since SAF recycles previously emitted CO2, it produces up to 80% fewer CO2 emissions over the lifecycle of the fuel compared to standard fossil jet fuels.
Greater Fuel Efficiency
Recent studies have shown that SAF has a higher energy density than conventional jet fuels, which can yield a 1.5% – 3% increase in aircraft fuel efficiency.
Improved Air Quality
Exhaust from SAF-powered helicopters is proven to contain up to 90% fewer particulates than conventional jet fuel, which has a huge impact on local air quality, especially in the areas surrounding an airport.
4. WHAT ARE THE CURRENT DRAWBACKS OF SUSTAINABLE AVIATION FUEL?
Of course, not everything is sunshine and rainbows. When it comes to using SAF, there are two major drawbacks:
Cost
As of today, SAF can be anywhere from 2–4 times the cost of conventional Jet-A fuel. However, as production continues to ramp up, formulation and distribution costs will inevitably go down, making SAF more competitively priced in the market. In addition, there may be some government incentives in your area which could help to further offset the price difference.
Availability
Like with any new fuel source, availability is a huge barrier of entry for mass adoption. Until the demand—and by extension, production volume—increases, it may not be readily available where you live. Contact your airport, fixed-base operator (FBO), or fuel supplier for SAF availability in your area.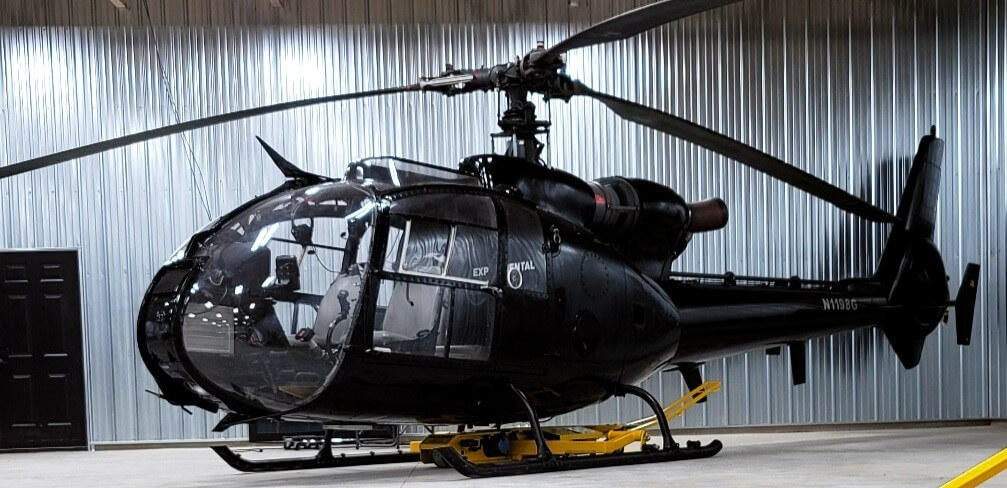 5. IS SUSTAINABLE AVIATION FUEL SAFE TO USE IN YOUR HELICOPTER?
In order for a synthesized fuel source to be used in an aircraft, it first needs to meet all ASTM D7566 requirements. This essentially says that the SAF has completed a strict testing process—including lab tests, bench tests, and test flights—and is verified to have the same qualities and characteristics as fossil jet fuels.
As of this writing, Bell, Airbus, and several other leading OEMs have certified their helicopters to run on a blend of Jet-A1 and neat SAF with up to 50% SAF concentration (though most recommend a blend of closer to 40%). While you should definitely consult your owner's manual or contact the manufacturer first, if your helicopter is certified to use the current specification of jet fuel, there's a very good chance SAF will be a safe choice for you to use.
6. DOES SUSTAINABLE AVIATION FUEL HAVE ANY IMPACT ON ENGINE MAINTENANCE?
While no part of owning a helicopter is considered easy on the wallet, if you ask any pilot, they'll tell you it's the routine maintenance and upkeep that can really set you back. So it's no surprise that this is a very common question voiced by those in the industry.
Fortunately, the answer is a resounding no. Or rather, if SAF does have an impact on engine maintenance, it's a positive one. That's because SAF burns much cleaner, meaning it produces less nitric oxide, sulfur oxide, soot, and black smoke buildup in the engine components and exhaust systems.
7. WHAT DO YOU NEED TO DO TO INCORPORATE SUSTAINABLE AVIATION FUEL INTO YOUR OPERATIONS?
If you're committed to incorporating SAF into your personal and/or commercial aviation operations and want to help accelerate the adoption of SAF around the world, there are three things you can do:
Inform your airport, fixed-base operator (FBO), and fuel supplier that you want it.
Contact your local, state, and federal representatives to let them know your interest in SAF.
Commit to purchasing SAF should it become available to you.
FINAL THOUGHTS ON SUSTAINABLE AVIATION FUEL
Despite its slow start, the helicopter industry seems poised to make up for lost time as it continues to adopt SAF in greater numbers. Together, we can do our part to help the aviation sector reduce its environmental impact while still enjoying the skies in the process.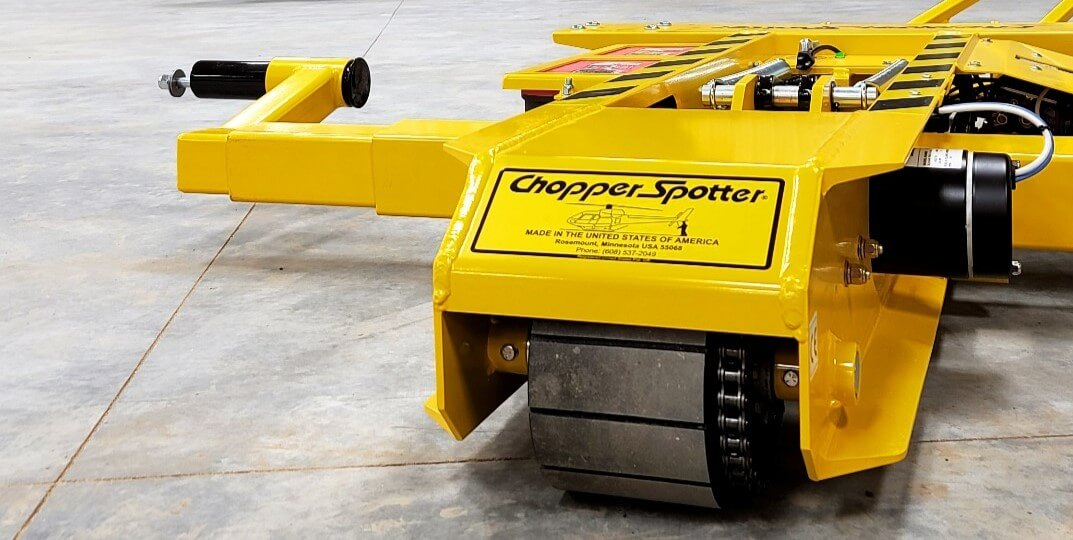 Are you looking for a better way to put your aircraft firmly in its place? Whether it's rain, shine, snow, or ice, there's no better solution than a Chopper Spotter.
Since 1989, Chopper Spotter has served as an industry-best partner for owners and operators in more than 40 countries around the world – and there's good reason for that. From hospitals and police departments to military organizations and private operations, we provide safety, maneuverability, and ease of use that is simply unmatched. Request a quote today to start experiencing the ease and maneuverability of the industry's best ground-handling equipment.