4 reasons you need a Chopper Spotter for helicopter ground-handling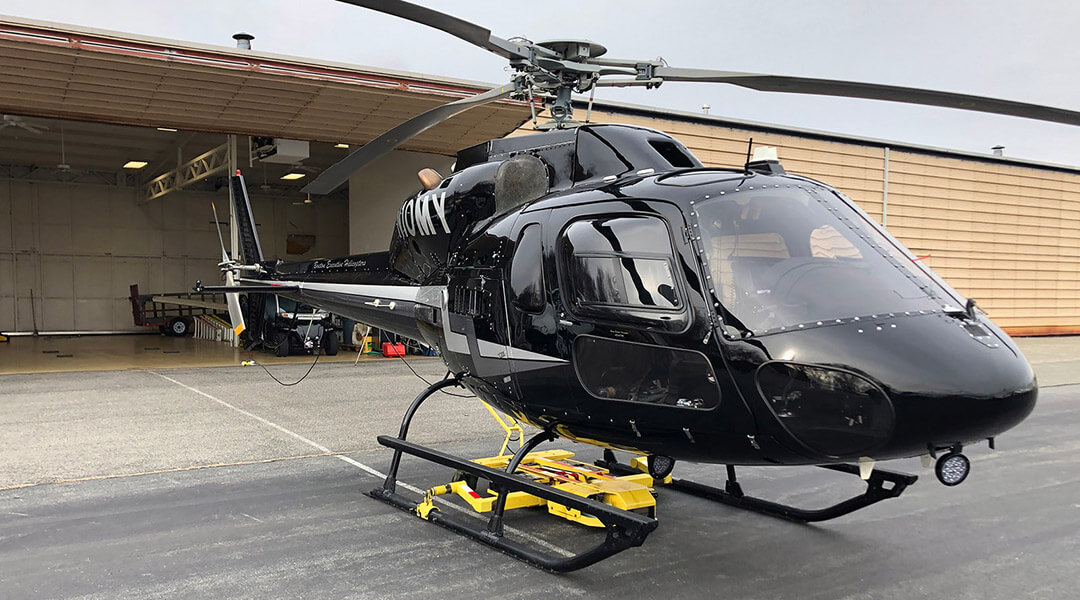 For helicopter owners and operators, taking off, flying, and landing are only the beginning. Once the aircraft is on the ground, a new range of challenges present themselves – specifically, how to most easily and effectively transport the helicopter from its touchdown location to its storage location.
Whether you store your helicopter in a hanger or simply need to bring it in for maintenance, doing so quickly and safely has long been a challenge for pilots and owners. Thankfully, helicopter ground-handling equipment has arrived and evolved to serve this need. There are a number of brands to choose from to serve as your go-to form of helicopter transport, but none combine the ease-of-use, safety, and maneuverability of the Chopper Spotter helicopter tugs.
Whether you own a single helicopter or an entire fleet, here are four ways you can benefit from adding a Chopper Spotter helicopter ground-handling unit to your arsenal.
Added safety – for you and your helicopter
Helicopters are large, heavy, and expensive machines, which makes safely transporting them both in the air and on the ground an incredibly important task. Any damage to the aircraft during operation or transport can not only be dangerous to anyone nearby, but it can also be tremendously costly if any equipment needs to be repaired.
When it comes to safe ground-handling, the first step is to secure the aircraft before maneuvering. With Chopper Spotter, the tug attaches to the skids from the rear, resulting in a safer and more stabilized method of movement. The Model 4 – our flagship model – has dual casters and an additional pair of lift arms for even greater stability and maneuverability.
Overall, the ultimate goal is to protect your multimillion-dollar helicopter – and you – while repositioning it on the ground.
Ease of use for any operator
A helicopter ground-handling solution is only safe as long as the operator knows how to control it. Overly complicated ground-handling solutions can result in a wide margin for error that leads to issues and damage during operation.
The Chopper Spotter offers quick and easy operation via our wireless, handheld control, and is capable of performing with only one person at the helm. The battery life of up to eight hours and the smaller footprint also make the Chopper Spotter a convenient remote control aircraft tug that's easy to store in a packed hangar.
For more information on how the Chopper Spotter works, check out our step-by-step guide.
Unmatched maneuverability
Maneuverability is the name of the game in ground-handling, as helicopters often need to be transported within tight spaces in the hangar or elsewhere. Relying on a helicopter transport solution with minimal control and turning radius is a sure way to make the process frustrating and time-consuming.
The Chopper Spotter features the industry's most maneuverable models, capable of pivoting on a dime up to 360 degrees in rain, shine, snow, or ice. And it does so without ever compromising on load capacity. The Model 4 can lift up to almost 12,000 pounds safely and securely to help you position even large helicopters with ease.
Efficiency for fleets of any size
The time-saving advantages of ground-handling are clear. When you have access to a remote control aircraft tug that can connect to your helicopter, raise it up, and move it forward and backward in a matter of minutes, it makes a big difference in your day-to-day operations. And when you're responsible for maintaining an entire fleet of aircraft, the time-saving benefits are compounded even further.
Chopper Spotter makes transporting helicopters around your facility easier than ever before, helping you spend less time on ground-handling and more time on initiatives that will help you keep your aircraft flying.
Put your helicopter firmly in its place with Chopper Spotter
Since 1989, Chopper Spotter has provided helicopter owners and operators with world-leading ground-handling solutions right here in the U.S. For anyone with a helicopter, from hospitals and police departments to military organizations and private operations, we deliver full and total on-the-ground control so you can move and position your aircraft exactly as you need to.
Request a quote today to start experiencing the ease and maneuverability of the industry's best ground-handling equipment.