The Many Roles of Rescue Helicopters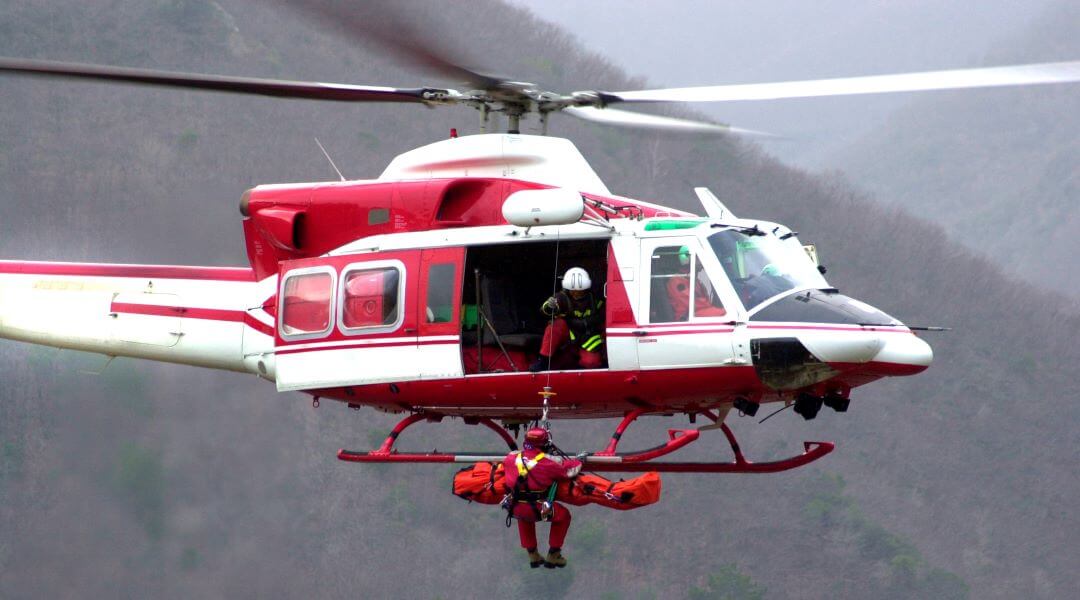 When you consider their range, mobility, and ability to land in some of the most hard-to-reach locations, it's no surprise that helicopters are called upon in the most harrowing, life-threatening situations.
Since their inception, helicopters have been the vehicle of choice for first responders dealing with everything from disaster relief to search and rescue. While they provide emergency support in countless ways, here are the top five roles rescue helicopters play in saving lives around the world.
1. MEDICAL EVACUATION
Watch the video above to learn what's it's like to save lives every day as a helicopter medic.
Medical evacuation, often abbreviated to medevac or medivac, was completely transformed by the addition of the helicopter in the early 1970s. Since then, air ambulances have been called upon every day to perform a number of life-saving tasks, such as:
Transporting severely injured patients from remote locations to the closest medical facilities
Evacuating wounded soldiers from the front lines to the nearest military hospital
Transferring urgent care patients from a local hospital to a better-equipped trauma center
2. AERIAL FIREFIGHTING
Watch the video above from Erickson Inc. to see these heroic firefighter pilots in action.
Each year, the U.S. Forest Service and Bureau of Land Management contract hundreds of aircraft to help combat raging wildfires, with annual expenditures of over $250 million. There's a very good reason for this, as helicopters are incredibly successful at suppressing and controlling the spread of forest fires.
There are three main ways in which helicopters assist with firefighting efforts:
Helitack: Helicopters provide rapid transport to firefighter teams and their equipment, allowing crews to immediately assess the situation and start building fire lines.
Chemical Spraying: Some of the most advanced aerial firefighting helicopters are outfitted with mounted foam cannons, which they can use to precision target hard-to-reach flames with foams, gels, and other specially formulated fire retardants.
Waterbombing: Either a helicopter is fitted with a specialized water tank (known as a helitanker) or it carries a large, flexible bucket (such as the Bambi Bucket). These tanks/buckets are typically filled from a nearby lake, river, or reservoir, then flown over the fire where they're dumped onto the area of most need.
3. POLICE AVIATION
Watch the video above for an unveiling of Fort Worth's brand new Bell 505 police helicopter.
Our nation's police officers are sworn to protect and to serve, and they can do both of those things much better with the help of helicopters. Police departments utilize rotary aircraft for a number of different public safety purposes, including:
Search and rescue
High-speed pursuits
Traffic and riot control
Ground support
SWAT unit deployment
4. DISASTER RELIEF 
Watch the video above to witness heroic USAF Pararescue teams airlift Hurricane Harvey flood victims.
Over the past few decades, helicopters have become an essential part of disaster relief missions around the world. Whether it's a flood, earthquake, hurricane, or volcanic eruption, helicopters are often the first vehicles on the scene, helping to assess the situation and rescue trapped or fallen victims.
Disaster relief helicopters help with:
Flying in specialists, vital equipment, and other rescue personnel
Search and rescue operations in unsafe or unstable areas
Evacuating injured or endangered persons
Taking aerial photos and ascertaining the extent of the damage
Identifying additional dangers that may arise
Dropping off necessary supplies such as food, water, and blankets
5. COAST GUARD SEARCH & RESCUE HELICOPTERS
Watch the video above to see a U.S. Coast Guard rescue helicopter demonstration in action!
In 2016, the aviation unit of the United States Coast Guard celebrated its 100th anniversary of providing maritime safety, security, and stewardship. This versatile and orange-clad branch of the military primarily deploys two rescue helicopters—the MH-65 Dolphin and the MH-60 Jayhawk.
U.S. Coast Guard helicopters are vital resources for:
Open water search and rescue
Homeland security
Interdiction of illegal drugs
Enforcement of fishery laws
CHOPPER SPOTTER IS PROUD TO SUPPORT THESE RESCUE HELICOPTERS
From hospitals and police departments to military branches and relief organizations, Chopper Spotter is proud to provide on-the-ground safety, maneuverability, and ease of use that is simply unmatched. Since 1989, we've served as an industry-best partner for owners and operators in more than 40 countries around the world – and there's a good reason for that.
In rain, shine, snow, or ice, there's no better way to put your aircraft firmly in its place. Request a quote today to start experiencing the ease and maneuverability of the industry's best helicopter tugs.